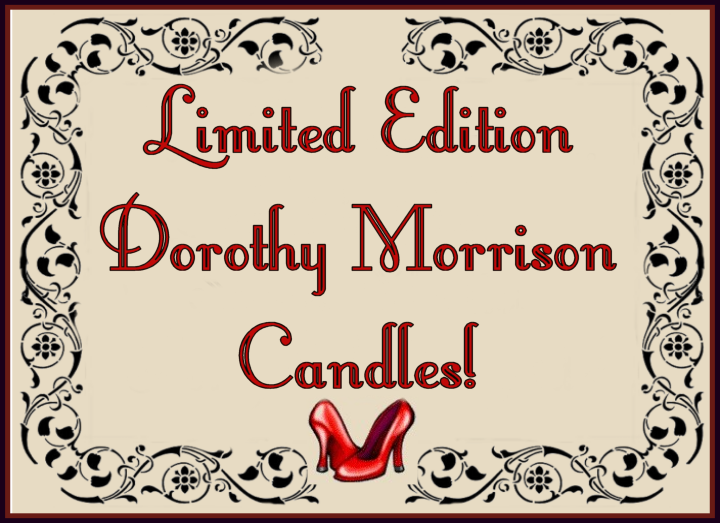 They're Back:
Your Favorite Limited Edition Candles...
Designed to Work with Your Favorite Specialty Oils!
Mere words cannot even begin to express just how excited I am to bring these candles back - even if only for a little while! And although it may be unseemly of me to say so, I am thoroughly convinced that they hold the most powerful magic on the market today - bar none. In fact, I can hardly wait to hear of your results when using them.
The only downside is that these really are limited edition candles. That means that there were only a certain number of each candle poured - and when they're gone, they're gone. I'm not selling them on the Wicked Witch Studios website, and am only offering them to you during the February Kick Ass Social Media Only Sale. So...don't delay! Get them while you can. And watch your magic soar to new heights!

If you wish to order several items on this page - or multiple items not listed in an ordering option - please email me first to avoid being overcharged for shipping. [International Customers: Please contact The Angry Cauldron for ordering details.]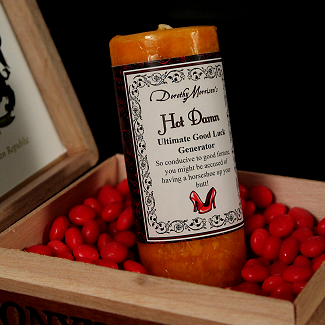 Hot Damn
[Good Luck Formula]
Down on your luck? Can't catch a break? No matter how hard you try, you just can't climb out of that hole of misfortune? Then it's time to give Hot Damn! a shot! Developed for particularly tough luck-related issues, this formula turns them around in snap and not only presents you with the opportunity to live life to the fullest - but the opportunity to live life as the luckiest person on earth. So lucky, in fact, that you may be accused of having a horse shoe stuck up your butt! [Dress it with Hot Damn Oil for exceptional power!]
$9.95 plus $5.95 Shipping & Handling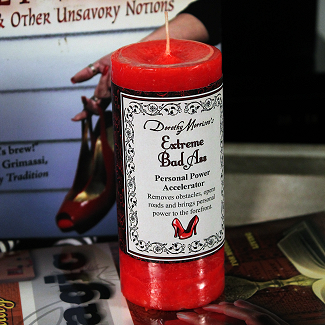 Extreme Bad Ass
[Personal Empowerment Formula]
Everyone needs that occasional boost of self-confidence. That extra shot of personal power. The gumption to stand up and say, "I won't put up with this crap any longer!" And that's exactly what Extreme Bad Ass provides. It brings you right to the forefront where you belong, garners cooperation from others, and keeps folks from messing with you. It gives you the courage and confidence to embrace the power within you - and use it to your best advantage. [Dress it with Extreme Bad Ass oil for unsurpassed strength!]
$9.95 plus $5.95 Shipping & Handling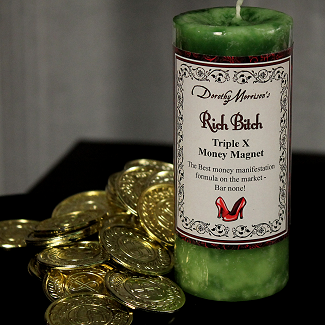 Rich Bitch
[Triple X Cash Flow Formula]
Searching out that pot of gold at the end of the rainbow is great fun, but it's a lot of work - especially when the odds of a positive outcome are slim to none. Wouldn't you rather just have the tools necessary to be a Rich Bitch, and save all that hassle? Well, now you can! Rich Bitch is a little like having your own personal leprechaun, and is the money-drawing formula I rely on for unplugging cash flow, manifesting money, and even for success in games of chance. [Dress it with Rich Bitch Oil to amplify its power!"
$9.95 plus $5.95 Shipping & Handling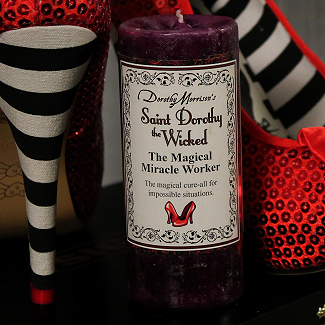 St. Dorothy the Wicked
[Magical Miracle Worker Formula]
When impossible situations come to call and you've exhausted all hope of finding a solution, it's time to call on Saint Dorothy the Wicked. Its triple action formula is perfect for battling even the toughest problems with ease. While there's nothing more powerful when it comes to performing successful magic, I also recommend using it before court appearances and legal battles, job interviews, presentations and office meetings, entering competitions, or any other situation that brings anxiety to the forefront. [Dress it with Saint Dorothy the Wicked Oil for turbo-charged blessings!]
$9.95 plus $5.95 Shipping & Handling


St. Dorothy the Wicked Special Edition Altar Ornaments

Triple Action Pocket Gris Gris

Special Edition Oils

Special Edition Sprays

2 oz. Sample Sized Sprays

Oil, Spray & Candle Combination Packages

Special Edition Bath Salts

Visit the Main Wicked Witch Studios Store

Visit Dorothy's Website