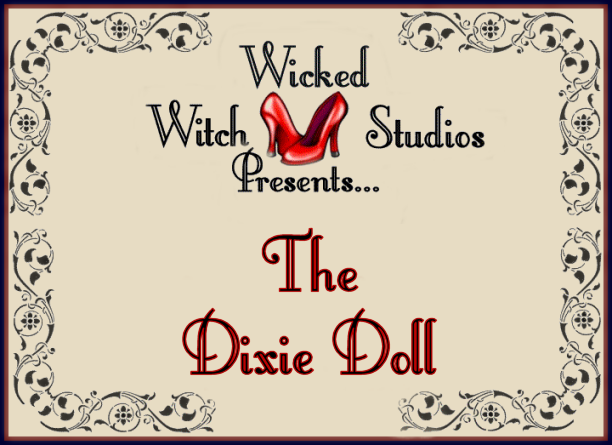 A Little Hoodoo for Your Dog...

...in the Form of a Chewable Poppet!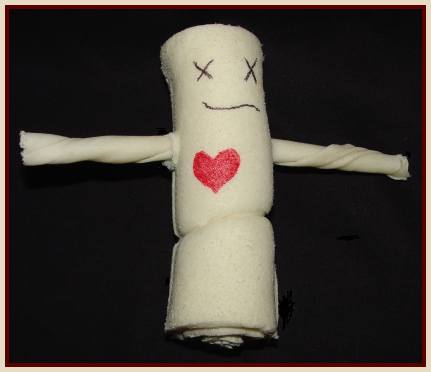 The ability to offer these great little chews has been on my mind for quite some time now. You see...I found a similar item for our black Lab, Dixie, some time ago. Fact is, she fell in love at first sight. But even better? It kept her entertained for hours. And that's quite a feat when it comes to our wild child!
That said, I did some research. I finally found the sort of fine, quality ingredients I felt good about giving to Dixie. And then I set about making batch. And it's those very same dolls I'm pleased to offer to your pet as well.
So...what's in them? How big are they? And what are they decorated with?
Dixie Dolls are four to six inches long, and made of completely digestible beef rawhide to which vitamin E has been added for a healthy coat. And there's no need to worry about the decorative designs they sport. Why? Because I've drawn them on with non-toxic permanent markers - which means they're completely safe for your dog, and won't come off on your carpet or upholstery. In fact, the only thing you'll have to worry about - if your dog is anything like mine, can't bear to be without one, and hides them for later use - is stepping on them in unlikely places! Chuckle!
One more thing, though, before we get to the ordering specifics. I'd be remiss if I didn't remind you that - just as with any other chew or toy - it's a good idea to supervise your dog during Dixie Doll play. ;)
---
Please note that I ONLY ship to locations within the United States and Canada. [Canadian residents, please email for shipping charges prior to purchasing as they will be substantially higher.] If you wish to purchase multiple items, please email me before ordering to avoid being overcharged for shipping.
---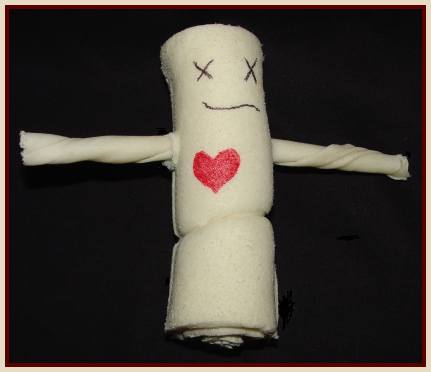 $5.95 each plus $2.50 shipping and handling
---
Please Note: Due to my appearance schedule - and due to moving both house and Wicked Witch Studios - order shipping will temporarily cease after May 11th and not resume until after June 1st. I apologize for any inconvience.
---

Wicked Witch Hexology Products

Elegant Poppet Pins & Inscription Tools

Wicked Witch Mojo Candles, Oils and Incense

Wicked Witch Mojo Oil Combination Packages

Dorothy Morrison's Wicked Witch Mojo Beans Coffee

Dorothy Morrison's Coffee Mug Collections and Other Cool Stuff

Handcrafted Tarot Bags

Dorothy Morrison's Autographed Checkbook Cover Collection

The Wicked Witch Mojo Bag

The Mojo on the Go Bag

The Mini Mojo on the Go Bag

Non-Limited Edition Altar Cloth & Wallhangings Available for Sale

Limited Edition Altar Cloths - Series 2 - Ordering & Purchase Information

Gallery of Limited Edition Altar Cloths Already Sold

Patterns and Accoutrements

Visit Dorothy's Website