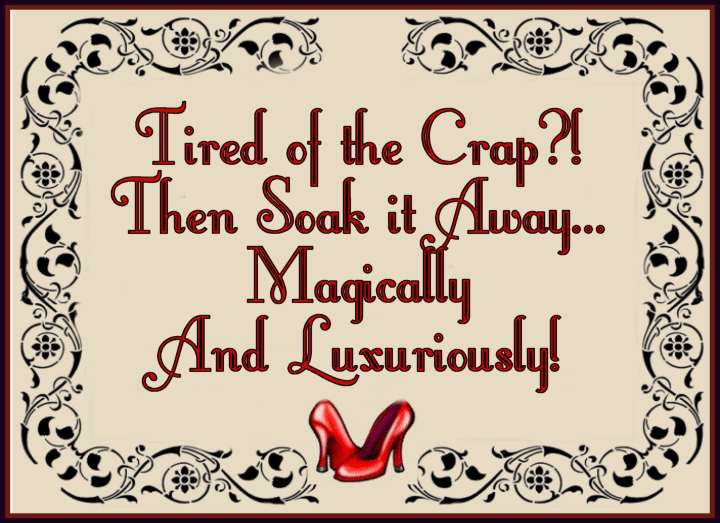 Decadent Bath Salts...
Designed to Make Your Life...
Worth Living Again!
Over the last year, I've had a ton of emails requesting that I offer the bath salts again; more specifically, the Spontaneous Combustion, Hot Damn, and Rich Bitch salts designed to work with my Life Reinvention System. And so, I decided to do just that. Only this time, I tweaked them just a bit.
Not to worry, though. They're still the same divine mixture of sea salt, Epsom salts, oils, and natural skin softening ingredients - and still combine luxury and magic in a way that no other can. Yes...they still do all those amazing things you loved so much about the originals. They soothe and revitalize, magically soak away negative energy, and replace it with a protective barrier designed to help change your life into one that's worth living again. And they still have the ability to change an everyday bath into a luxurious magical experience.
So...what's different? I changed the packaging to make it much more convenient for you to use.
Instead of being funneled into jars, each type now contains 7 individual use packets - something that takes the guesswork out of how much to use - and is packaged in an organza bag. You'll also find a back label detailing usage for both baths and showers. There's more. Because the new packaging is much lighter than that of the original, it's much less expensive to ship. And there's definitely something to be said for that!
While using the bath salts alone can definitely put you on the road toward life reinvention, I recommend using them in combination with the oils and sprays of the same name, as well as the appropriate candle. For information on ordering the entire 4-product combo, please check out the Life Reinvention page.
Just an aside...none of the bath salts are currently available to the general public, and don't appear on the Wicked Witch Studios website. Right now, they're only available to you - my loyal supporters on Social Media - during the Holiday Social Media Only Sale!

If you wish to order several items from this sale - or multiple items not listed in an ordering option - please email me first to avoid being overcharged for shipping. [International Customers: Please contact The Angry Cauldron for ordering details.]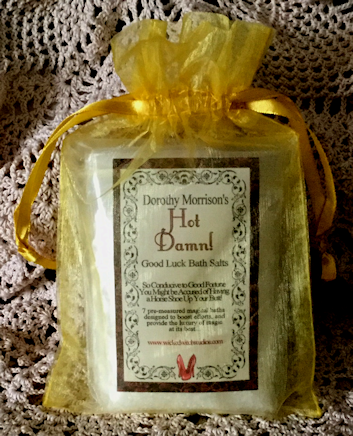 Hot Damn Bath Salts
[Good Luck Formula]
Down on your luck? Can't catch a break? No matter how hard you try to climb out of that hole of misfortune, you just can't seem to get a foot hold? Then it's time to give Hot Damn! a shot! Developed for particularly tough luck-related issues, this formula turns them around in snap and not only presents you with the opportunity to live life to the fullest - but the opportunity to live life as the luckiest person on earth. So lucky, in fact, that you may be accused of having a horse shoe stuck up your butt!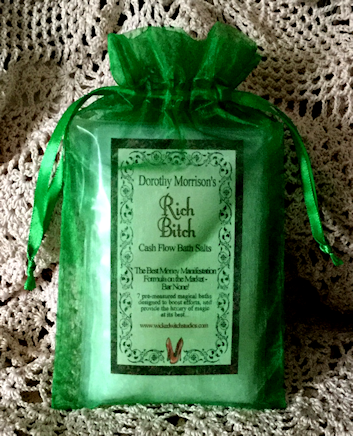 Rich Bitch Bath Salts
[Triple X Cash Flow Formula]
Searching out that pot of gold at the end of the rainbow is great fun, but it's a lot of work - especially when the odds of finding it are slim to none. Wouldn't you rather just have the tools necessary to be a Rich Bitch, and save all that hassle? Well, now you can! Rich Bitch is a little like having your own personal leprechaun, and is the money-drawing formula I rely on for unplugging cash flow, manifesting money, and even for success in games of chance.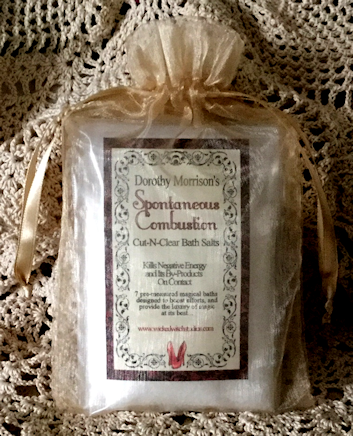 Spontaneous Combustion Bath Salts
[Cut-n-Clear Formula]
Love the Spontaneous Combustion oil and spray? Then you'll simply adore these bath salts by the same name! It's the perfect way to clear negative energy and its residue from your body, mind, and spirit - and all in the form of a luxurious bath. I highly recommend it for use after interaction with exhausting, needy people, on those days when nothing seems to go right, when you feel illness begin to settle in, or you just feel the need for a fresh start. It's a great addition to the ritual bath bowl as well.


St. Dorothy the Wicked Special Edition Altar Ornaments

Limited Edition Candles

Special Edition Sprays

2 oz. Sample Sized Sprays

Oil, Spray & Candle Combination Packages

Special Edition Oils

Triple Action Pocket Gris Gris

Visit the Main Wicked Witch Studios Store

Visit Dorothy's Website