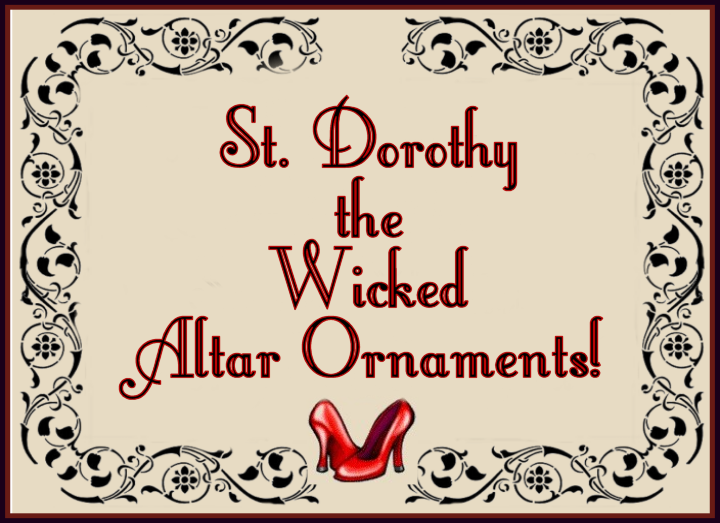 Adorning Your Altar...
While Boosting Your Efforts...
And Sending Your Magic...
Exactly Where You Want It To Go!
For the last few months, my inbox has been loaded with emails from folks who can't seem to get their magic off the ground. I'm not talking about those who are new to magical practice. No...these emails are coming from seasoned practitioners. Folks who not only know what they're doing, but have been performing magical efforts longer than I have - the latter of which is longer than I care to admit.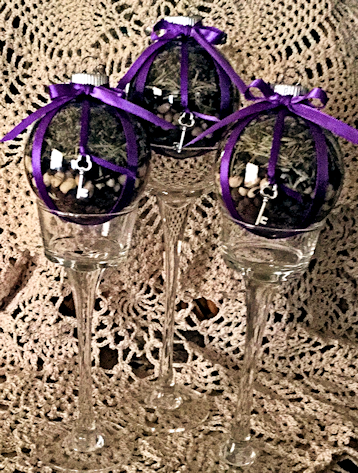 So what's wrong? Well...opinions vary. I've heard everything from a rip in the fabric of the Universe, to a personal karmic curse, but I'm not sure those are at fault. Instead, I think that it's a matter of the "collective stress" in our world - something that's finally catching up with the inhabitants of our planet, with its force being most felt by those who are sensitive to energy. And those folks would be members of the magical community: Our magical practitioners.
I knew I had to do something to help, so I searched for a solution. And when I came up empty-handed, I suddenly realized that I wasn't experiencing the same sort of magical impotency as those who had written to me. My magic was still straight and true, and hitting its mark just like it always had. And then...it hit me: I had something they didn't - something that leveled my odds - and the solution had been staring me in the face all along.
So...what was this magnificent little odds-leveler?
It was the St. Dorothy the Wicked Altar Ornament!
At 2-1/2" in diameter, this ornament truly is a must-have for all magical practitioners. It's designed to boost your magic to handle even the toughest situations. And since each one is already charged and activated, there's no muss, nor fuss, nor any further magic necessary. Just hang it above or beside your altar - or give it a special place on top - and it gets to work, strengthening and revving up your magic as only the St. Dorothy the Wicked products can. [She is, after all, the magical miracle worker!] It really is as simple as that.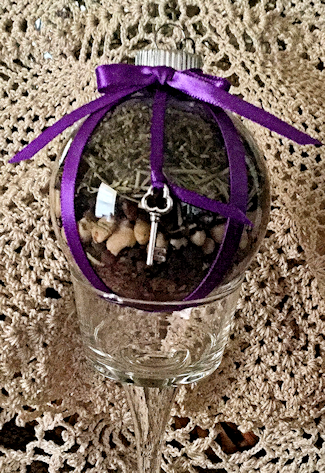 So...what makes this ornament so magically potent?
For one thing, it contains the very same herbal mixture found in my St.Dorothy the Wicked Pocket Gris Gris, topped off with St. Dorothy the Wicked oil - and no other formula on the market brings magical results quicker than that. For another, there are layers of brown sugar and rose petals to sweeten your magic, allspice pods for good luck and healing, whole cloves to dispel negative influences and attract good spirits, black-eyed peas to watch over and protect magical efforts, and rosemary to assist with uncovering truth and gaining answers. You'll also find a layer of cinquefoil to protect the practitioner against hexes and other unsavory magic, as well to ensure that all magical efforts fly straight and true, and a piece of John the Conqueror root to handle anything that could possibly go awry. Tied up in deep lavender ribbons to magnify magical power, I've also added a tiny silver skeleton key to assist in opening the gates between the mundane and spiritual worlds. And...I've personally charged and activated each one to bring you the most powerful magical assistance to be had. But that's not all. Each ornament comes with a hook for easy hanging, is nestled in a bed of Spanish moss [an item that can be used later in magical efforts requiring longevity], and is packaged in a clear, plastic box.
If that weren't enough, though, there is one more thing that makes these ornaments so special: They are not available to the general public, and do not appear on the Wicked Witch Studios website. Right now, they're only available to you - my loyal supporters on Social Media - during the 2017 February Kick Ass Social Media Only Sale. So...get yours today! You'll be glad you did!

If you wish to order several items from this sale - or multiple items not listed in an ordering option - please email me first to avoid being overcharged for shipping. [International Customers: Please contact The Angry Cauldron for ordering details.]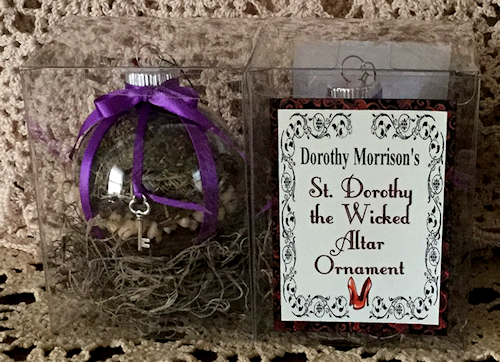 St. Dorothy the Wicked Altar Ornament

$16.95 plus $6.95 shipping and handling via Priority Mail


Limited Edition Candles

Special Edition Bath Salts

Special Edition Sprays

2 oz. Sample Sized Sprays

Oil, Spray & Candle Combination Packages

Special Edition Oils

Triple Action Pocket Gris Gris

Visit the Main Wicked Witch Studios Store

Visit Dorothy's Website